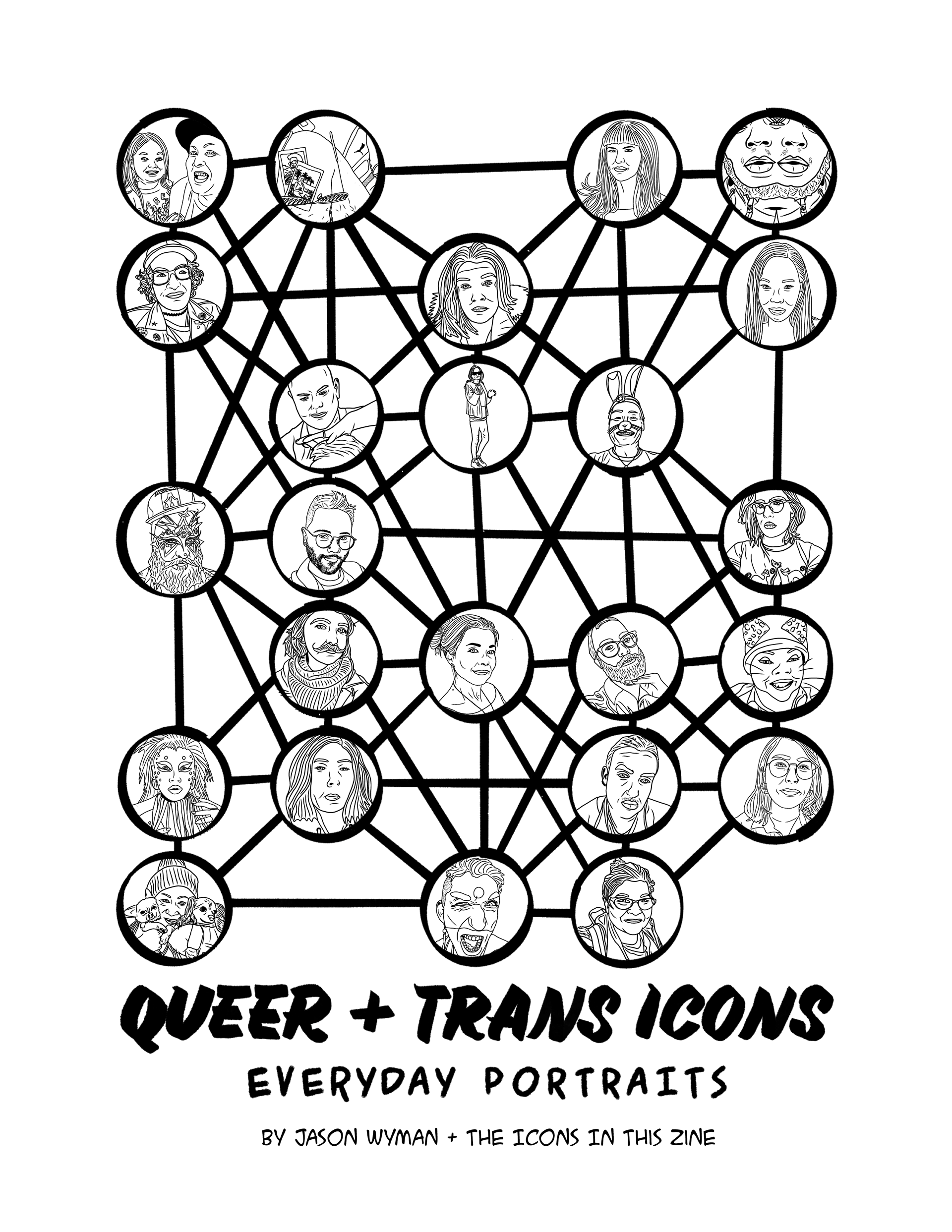 This is from a series of zines I created as part of San Francisco Public Library's Summer Stride 2019 Programming. I facilitated a series of workshops with the Hormel Center at the SFPL and with Street Sheet, a project of the Coalition on Homelessness, and conducted interviews with my queer and trans neighbors to collect the selfies + stories contained within these portraits.
All stories that are told in the first person were written by participants in my workshops. All stories written in the third person were written by me based on interviews. Everyone was given the opportunity to provide feedback on both the illustrated portrait and the bio before it went to print. 
So often, names like Harvey Milk or James Baldwin or Frida Kahlo or Gertrude Stein are spoken. Occasionally, someone will mention Janet Mock or Pedro Zamora or Chas Bono. Rarely, a comrade will bring up We'Wah or Miss Major. Yes, all of these fabulous people are icons. They hold a place in our imagination that makes them seem larger than life, something worthy of respect + veneration. 

They also are (and were) just people. They are (and were) neighbors, friends, caretakers, siblings, co-workers, lovers, the folx you pass just walking down the street. 

It got me to thinking, how did they become the icon they are now perceived to be? In large part it's because someone else said they were an icon. And why someone said their name is because someone else wrote about them. 

So…I decided to queer (to disrupt the expected norm) who gets named as queer + trans iIcons, and turned my gaze to my neighbors. I asked folx to share a selfie + A  story with me. I then put their portrait + bio onto paper. 

Each one of these fantabulous people are a Queer + Trans Icon. For each one is worthy of respect and veneration.  

I encourage you to look at your neighbors + turn them into icons. Ask them about their lives + put their portrait + bio on paper. Then, Share their stories with others. 

We can all be icons together.